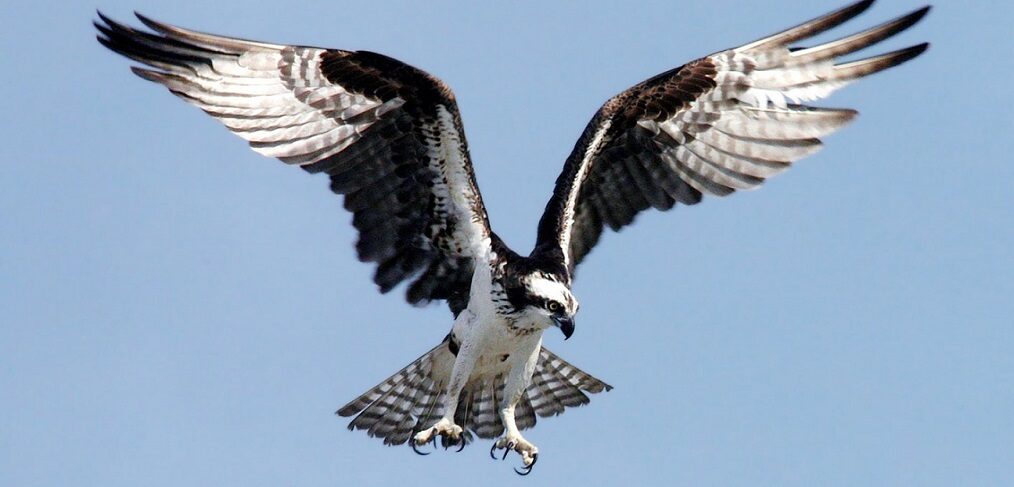 species of the week #20 (KW 23-2020) – osprey
The osprey is a very rare breeding bird in Rhineland-Palatinate. With luck it can be observed during migrations along the Rhine and in fish ponds. As a resident bird it is very rare in Rhineland-Palatinate. Osprey breeds on exposed trees and masts. Their nest of dry vines and branches is often very large due to years of re-use. Ospreys live monogamously and have the same partner for a lifetime. They eat mainly fish, but also small mammals and birds if necessary.
| | |
| --- | --- |
| distribution status | extremly rare |
| remaining deposits | Westerwälder Seenplatte |
| last sighting in Rhineland-Palatinate | 2019 |
| habitat | waters rich in fish |
| threat of | hunting, fish mortality, declining water quality |
In the Eastern European breeding areas as well as in various transit and wintering areas, the osprey is endangered above all by persecution, in other breeding regions also by disturbances and food shortages due to water pollution.
NABU purchased the Westerwald Lake District in 2019 in order, among other things, to stabilise the habitats for osprey and to further enhance the ecological value of the area through renaturation measures. Black storks, ospreys and great white egrets appreciate the rich food supply of the ponds. In order to secure the lake landscape in the long term, NABU, in cooperation with the state of Rhineland-Palatinate, the local authorities and local conservationists, intends to carry out hydraulic engineering restoration measures and other nature conservation work.
Politically necessary:
– Support of the protection projects
– Improvement of water quality
– Europe-wide use against hunting of strictly protected species
Picture: Von NASA – http://mediaarchive.ksc.nasa.gov/detail.cfm?mediaid=23019, specifically 04pd1258.jpg, Gemeinfrei, https://commons.wikimedia.org/w/index.php?curid=111931