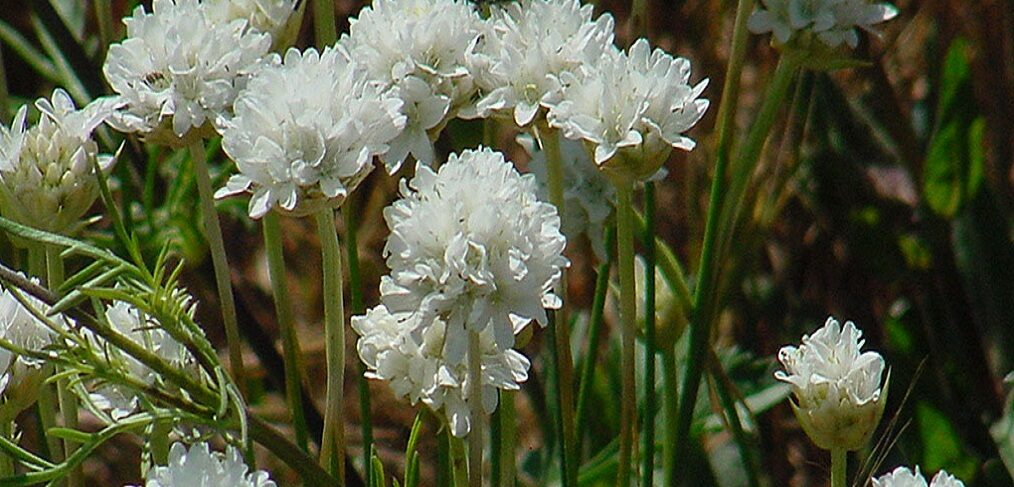 species of the week # 23 – jersey thrift
The jersey thrift is a plant about 20-60 cm high with white to light pink flowers on a spherical inflorescence. It is a formerly native plant, which today in Germany can only be seen in botanical gardens, such as in Mainz, Heidelberg, Frankfurt and Würzburg.
| | |
| --- | --- |
| Distribution status | Extinct in Germany |
| Remaining stocks | Small stocks in Austria, Switzerland and Italy |
| Last sighting in Rheinland-Pfalz | Mainz, year unknown |
| Habitat | Sandy, poor, dry soils |
| Threat | Euthrophication due to atmospheric nitrogen input and fertilisation, mowing before flowering |
Other species of cloves have also become extinct in Rhineland-Palatinate, e.g. the sand cloves. It was last mapped in 2014 in Grünstadt and Bad Dürkheim. The common thrift has been lost for a long time.
In 2015, the discovery of a population in the Austrian National Park Thayatal, the first and only occurrence in Austria, caused astonishment. This can be explained by the specialized life form of the plantain-grass cloves as a chamaephyt ("earth plant"). Chamaephytes form survival buds just above the ground, which survive for a long time even under adverse conditions such as a closed snow cover or very dry phases. As soon as the deficiency situation changes, these plants begin to grow upwards again and take on their usual form. There is therefore hope that through renaturation and reduction of nitrogen input, the stocks that existed there a long time ago can be revived. Wegereich cloves are also available as ornamental plants, which usually have a much stronger colouring.
Politically necessary:
– Preservation of lean habitats
– Compliance with the fertiliser ordinance
– Reduction of airborne eutrophication
– Support of a staggered mowing and care management
Picture: From I, Denbert, CC BY 2.5, https://commons.wikimedia.org/w/index.php?curid=2246863