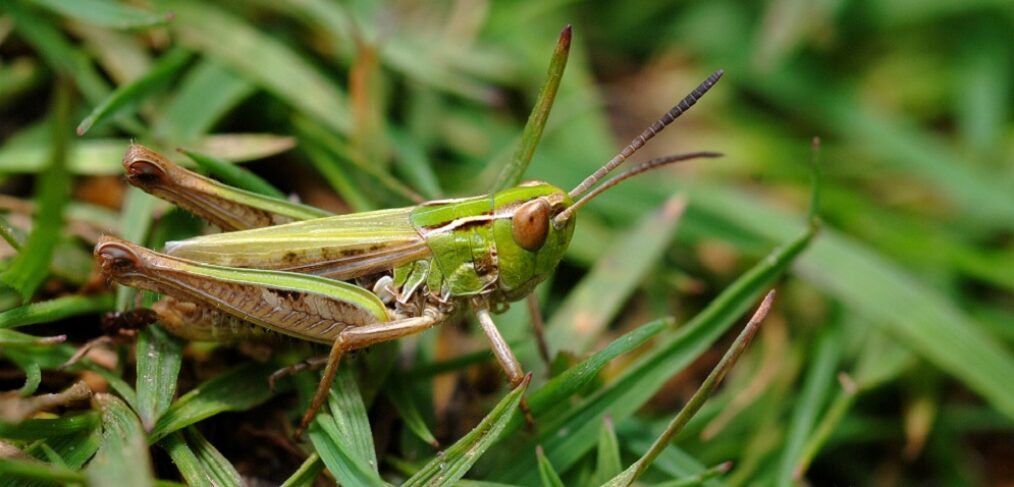 species of the week #36 – lesser mottled grasshopper
The lesser mottled grasshopper is one of the smallest grasshoppers in Central Europe and with 11- 15 mm even smaller than a 1-cent coin. The basic color is green, but can also be brown. From the head typically two bright lines run from the eye over the back and the crease edge of the front wings. The tip of the abdomen may be orange-red in the male.
| | |
| --- | --- |
| Distribution status | Threatened with extinction |
| Remaining deposits | Baden-Württemberg, Lower Saxony, Bavaria |
| Last sighting in Rhineland-Palatinate | unknown |
| Habitat | Lean grassland |
| Threat of | Grazing task, eutrophication, overbuilding |
The typical Zirp-sound of the lesser mottled grasshopper is very quiet. One hind leg is moved more intensively than the other. At the end of their song, the leg is moved very far upward and produces loud "zigzag" as final squiggle. During the roaming in the vegetation, however, the males often produce Going-sounds because their legs rub together when running.
The lesser mottled grasshopper is a typical species of extensively used, sunny meadows and pastures. Their vegetation is low-growing and interspersed with open ground. The species colonizes both calcareous and calcareous-poor nutrient-poor grasslands and dwarf shrub heaths. Particularly gladly, the small lesser mottled grasshopper lives in low-growing sheep fescue and small hawkweed.
In most locations, the lesser mottled grasshopper is dependent on traditional pasture use as a guarantee for short, sparse meadows. In Rhineland-Palatinate, the remaining populations live mainly on lean sheep pastures. Intensification of cultivation as well as abandonment of use can lead to the local disappearance of the species, which is threatened with extinction anyway. Since the females of the species are not able to fly, the lesser mottled grasshopper is not able to colonize isolated habitats. A promotion of the wandering sheep can make the settlement of suitable habitats possible, since the animals can stick in the fleece of the sheep.
Politically necessary:
– Promotion of extensive grazing
– Measures against eutrophication
– Improved protection of nutrient-poor turf
to the previous species of the year here
Picture: By Gilles San Martin – originally posted to Flickr as Stenobothrus stigmaticus male, CC BY-SA 2.0, https://commons.wikimedia.org/w/index.php?curid=10566134