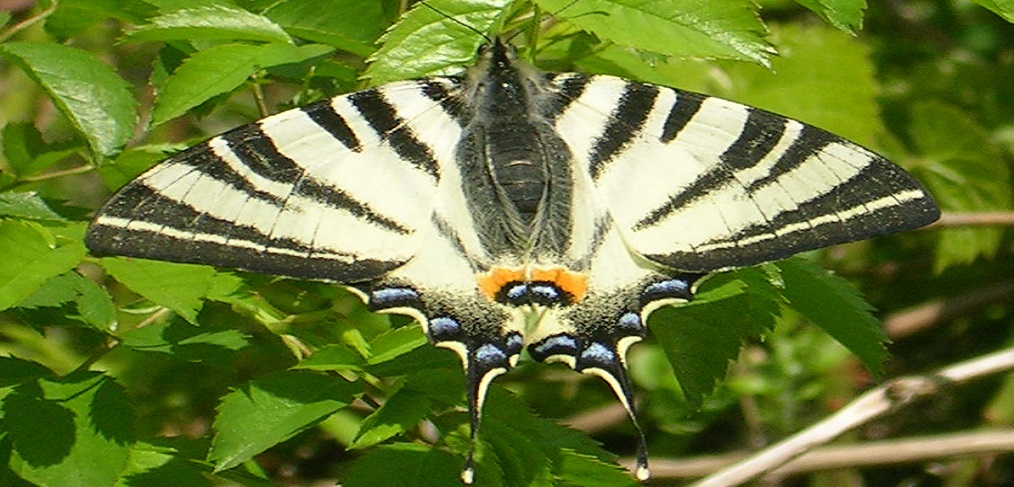 species of the week #7 -Scarce swallowtail
The Scarce swallowtail is an impressive butterfly with its zebra pattern, long tips and its size of up to 7 cm. In Rhineland-Palatinate,Scarce swallowtail is mainly found in the Middle Rhine and the Nahe and Ahr rivers, very small populations of Lahn, Glan and Alsenz. At mountain tops, one sees it at the combination-time in July – frequently with the smaller swallow-tails in groups around-float, the so-called hilltopping.
| | |
| --- | --- |
| Distribution status | Extremely rare |
| Remaining deposits | Rhine, Nahe, Ahr, Lahn, Glan, Alsenz |
| Last sighting in Rhineland-Palatinate |  current |
| Habitat | Open, dry-warm slopes |
| Threat of | scrub encroachment, land consolidation, use of insecticides, lack of biotope networkingIn |
In addition to the preferred forest free rock locations, vineyards and semi-dry grasslands have been important secondary habitats for the Sail butterfly for many centuries. The eggs are only laid on the underside of the leaves of very low sloe bushes in a sunny location. Due to the warm, sheltered deposition place, eggs and caterpillars grow faster and are therefore only threatened by predators for a short time. For the adult butterflies mostly only cats are a danger. Therefore you will find from time to time sail butterflies without corners.
Overall, however, the butterflies are most endangered by scrub encroachment, complete clearing of their habitats or their isolation in the context of land consolidation. Intensive use of insecticides, especially helicopter spraying, leads to strong drifting of pesticides into adjacent areas and increases the loss of Sail butterflies.
Politically necessary:
– Reduced and precise use of insecticides
– Preservation of ecological structural diversity in land consolidation
– Further networking of biotopes including the establishment and committed processing of management plans