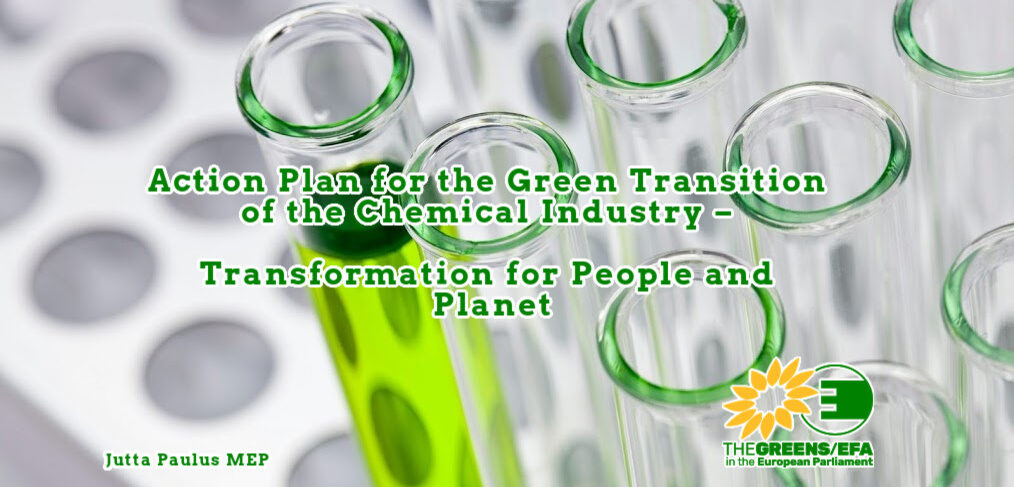 Action Plan for the Green Transition of the Chemical Industry
Action Plan for the Green Transition of the Chemical Industry – Transformation for People and Planet
Action Plan for the Green Transition of the Chemical Industry – Transformation for People and Planet
drafted by MEP Jutta Paulus and MEP Sven Giegold
Chemicals are a necessary and important part of our lives and of a green transition. They allow us to surf the internet, cure diseases, produce renewable energy, store food, and much more. However, the exposure to chemicals during production, consumption, and disposal of chemicals and products containing toxic chemicals often has detrimental effects on human and animal health as well as adverse impacts on the climate and the environment.
Europe needs an ambitious chemicals policy that combines the protection of human health and nature with economic and industrial policies that strengthen Europe's sustainable industries. The EU must develop a holistic industrial policy framework that ensures that safe and sustainable chemicals "Made in Europe" contribute to all Europeans living well within our planetary boundaries, including meeting our Climate Action targets. It is of key importance that all services of the European Commission effectively implement the zero-pollution ambition for a toxic-free environment of the European Green Deal. Production, use, and disposal of chemicals must not harm human health or human rights nor ecosystems. Producers and downstream users must take responsibility for the entire value chain of their products.
1. Apply and enforce EU law rigorously. REACH, if properly applied, is our best tool to achieve the zero-pollution ambition for a toxic-free environment. We need to ensure its full application to protect human health, including that of workers, animal health and the environment. The principle of "no data, no market" must be refined towards a principle no proper data no market". Not acting on incompliance means unfair treatment of companies that have fulfilled their duties. ECHA, the Commission and Member States must act against industry laggards and Member States should apply substantial penalties for non-compliance with chemical laws. We cannot accept the continued use of banned phthalates in children's toys. ECHA must be equipped with sufficient and predictable funding to fulfill its tasks in a timely manner. Equally, Member States must ensure national enforcement bodies have sufficient capacities to ensure the enforcement of EU chemicals legislation, including by sufficient inspections. The Commission should audit the enforcement systems in the Member States and prioritize to open obvious cases of infringements without delay. As chemicals continue to pollute our waters decades after the Water Framework Directive was adopted, its full implementation must be a priority in all Member States as well as for the Commission. Finally, the Commission should withdraw its appeal to the judgement in case T-837/16 and fully apply it.
2. Ensure the phasing out of fossil fuels and fossil raw materials. The chemical industry must contribute its fair share to the EU's climate neutrality by 2050 at the latest. This requires enormous investment in renewable energy and electrification. Electricity from wind and solar is competitive today, but bureaucratic barriers for its use must be removed. Hydrogen as replacement for fossil gas must be produced from renewable energy. Commission and Member States should make effective use of economic instruments to incentivise climate-neutral and sustainable products and clean production (e.g. fees, environmental taxes). Where fossil raw materials are substituted by bio-based feedstock, a life-cycle analysis is needed to ensure sustainability. Set benchmarks for efficient production and use through best available techniques.
3. Ensure upstream and downstream producer responsibility. Adopt a European due diligence law to cover supply chain management. Producers must be accountable for human rights and labour standards violations along the supply chain. Hazardous substances that are prohibited in Europe must not be exported to other countries. The resource basis for all chemicals produced and used in Europe must be ecologically sound and respect human and workers' rights. Pollution needs to be prevented or reduced to levels that are no longer harmful to human health and the environment and energy consumption during the lifecycle of chemicals must be reduced to a minimum. Apply Extended Producer Responsibility to more products, product groups and waste streams as a means to strengthen waste prevention, to discourage the use of hazardous substances and to improve recycling.
4. Substitute hazardous substances wherever possible. Despite the progress made in the last decades, many hazardous chemicals are still found in every-day products such as in toys, cosmetics, textiles, leather, and food contact materials, putting human health at risk and causing billions of costs for our health system. At birth, every third baby in the EU is poisoned with methylmercury levels above the current legal limit. We must implement a toxic-free hierarchy of measures that follows the principles of safe and sustainable by-design. Safe and sustainable-by-design must avoid production and use of hazardous substances where not essential, minimise exposure and effectively substitute hazardous chemicals with safer alternatives, including non-chemical alternatives. All relevant currently known substances of very high concern must be included on the candidate list by the end of this year. Cocktail effects of chemicals must be addressed by implementing a mixture allocation factor in Annex I of REACH. The upcoming revision of the EU Toy Safety Directive must be used to ensure children are better protected from all hazardous substances. All relevant legislation must be revised to ensure the safety for all applications of nanomaterials in products with potential health, environmental or safety impacts over their life cycle based on adequate tests.
5. Adopt REACH+ to close dangerous loopholes and fully address plastics. Adopt an early warning system. The Commission should adopt a legislative proposal amending REACH to ensure  the registration of polymers, to strengthen information requirements on toxicological properties and exposure, to extend the fast-track procedure for consumer use to all substances of very high concern and to add substances that are persistent, mobile and toxic or very persistent and very mobile to the substances of very high concern and to ensure the adequate assessment of complex substances. Add energy and resource efficiency to assessment criteria for chemicals used for a specific purpose. Adopt an early warning system to protect us from emerging issues. Deploy a monitoring and reporting mechanism for unwanted effects of chemicals.
6. Speed up and streamline the regulatory process – and no new paralysis by analysis. Chemicals should be grouped both for assessment and subsequent regulatory action to reduce avoidable bureaucracy, to speed up the regulatory process, to avoid regrettable substitution and to reduce animal testing. "One substance – one hazard assessment" can avoid duplication of work. Risks, however, must be assessed and managed depending on the respective use and exposure. Do not formalize the regulatory management option analysis (RMOA) as this would only lead to paralysis by analysis. As a priority, the Commission should adopt an action plan for Per- and Polyfluoroalkyl substances (PFAS), with the goal to phase out the use of all 4700+ PFAS "forever chemicals", allowing only essential uses. The scope and use of generic risk assessments should be extended. Common hazard-based criteria for Endocrine Disruptors (EDC) should be defined and adopted across all relevant pieces of legislation as a basis for effective action to minimize exposure. EDCs should be banned in consumer products such as toys, cosmetics, food contact materials, and textiles. Implement new hazard categories in the CLP regulation, e.g. for Endocrine Disruptors and PBT (persistent, bioaccumulative and toxic) substances and take action on the global scale to include them in the Globally Harmonised System. European Parliament and civil society must be empowered to request scrutiny of potentially hazardous substances.
7. Speed up the transition towards a clean and toxic-free Circular Economy. Instead of extract – make – use – throw away, we need to re-use precious resources in order to relieve pressure on the environment and the climate, reduce dependency on imports, save costs for extraction and transport and stop polluting the planet with plastic waste. The EU needs to establish non-toxic material cycles. Toxics out – then recycle! The Commission must develop criteria for safe and sustainable chemicals, materials and products, including efficiency benchmarks (e.g. for energy use and waste) for production and processing of chemical products, as part of the safe and sustainable-by-design principle and adopt a target to reduce resource consumption. Use economic instruments to incentivise resource-efficient and circular products and business models. EU chemicals policies must prioritise waste reduction over recycling. EU laws must ensure the same chemical safety standards apply for products made from recycled materials as compared to virgin materials. A key industry that must ensure Europe's transition towards sustainability are batteries. We need sustainability criteria for the production and (re-)use of batteries as well as a full recycling obligation for all batteries on the market.
8. Ensure transparency and empower consumers to make safe and smart choices. Toxic-free and low-resource chemicals which are produced under fair conditions can be facilitated through greater transparency. Establish, based on existing information, such as the SCIP Database, a user-friendly public information system on hazardous substances present in materials and articles, e.g. via a mobile application. The database should also include information about  recyclability as well as content of recycled materials, energy demand in production and adherence to labour standards. Applicants should register studies intended to be used for regulatory purposes upon commissioning. ECHA should make publicly available the full  toxicological and ecotoxicological studies that are submitted by registrants and applicants.
9. Embed EU chemicals laws in an industrial policy that fosters smart innovation. The transformation of the chemical industry is an opportunity to boost investment in future-proof technologies. European policies on sustainability are part of an industrial strategy so that safe and sustainable chemistry "Made in Europe" can remain competitive and secure the 1.2 million jobs in the European chemical industry. Energy and resource efficiency in production is key for being a front runner tomorrow.  We must invest in research and education, digitalisation, SMEs, and new business models to incentivise safe and sustainable chemicals Made in Europe.
10. Ensure a level playing field for all. Imported products must fulfil the same chemical safety standards as EU manufactured products. EU citizens and producers must be protected against low-standard products from other places in the world. These products must be eliminated from the market, therefore, more tests are necessary.  To ensure adequate testing of products, the Commission must make use of the powers granted under the Market Surveillance Regulation to set minimum standards for the amount of samples, frequency, and conditions of the checks performed by the national authorities. Where products are found in breach of EU rules, fines must be imposed on the producer and/or importer. This is essential in order to ensure that REACH's leading role for ambitious chemicals legislation is not undermined.