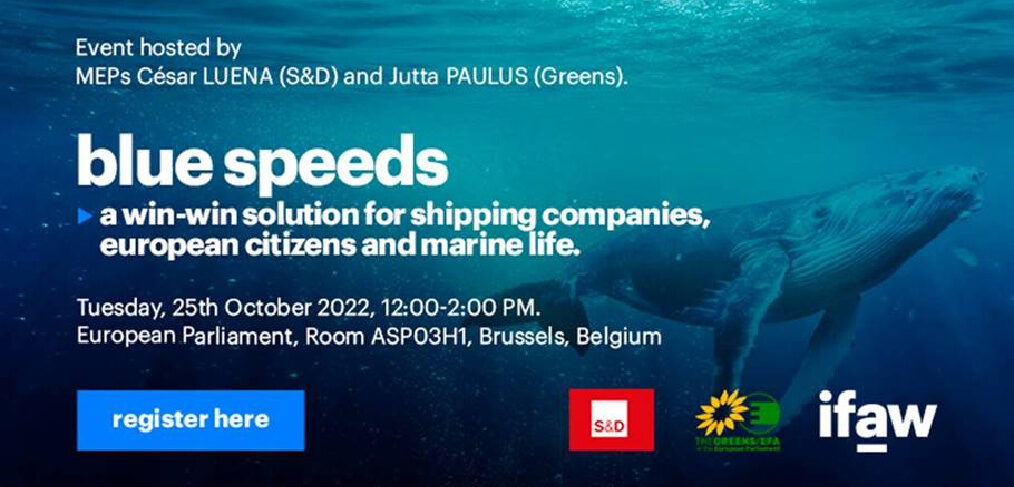 Event on Underwater Noise Pollution and Blue Speeds
MEPs César Luena and Jutta Paulus warmly invite you to the event "Blue Speeds: a win-win solution for shipping companies, European citizens and marine life", taking place at the European Parliament (ASP 03H1) on Tuesday 25 October 2022, from 12:00 to 14:00 (Brussels time).
Commercial shipping is the primary global contributor to underwater noise pollution, and this continuous noise dominates background sound in the ocean. Impacts on the marine environment are wide reaching; noise can change predator-prey interactions and community structure, compromise food web dynamics and stability, and so risks ecosystem productivity and services. Current shipping speeds also present the risk of collisions with whales and contribute to increasing greenhouse gas emissions from the sector.
This event will address EU solutions for the shipping industry to reduce underwater noise pollution and collision risk with whales (ship strikes). Experts from CE Delft, an independent research firm on environment and sustainability, will present a new study on the economic and environmental cost/benefits of reducing ship speeds in EU waters to protect marine biodiversity. Other speakers include representatives from the European Commission, the Spanish Ministry for the Ecological Transition and the Demographic Challenge, the shipping industry and the International Fund for Animal Welfare (IFAW).
Agenda:
Opening speech: César Luena MEP (S&D)
Message from Virginijus Sinkevičius, Commissioner for Environment, Oceans and Fisheries
A Member State's perspective: Elvira Garcia-Bellido Capdevila, Head of Marine Protected Species Area, Sub-directorate General of Terrestrial and Marine Biodiversity, General Directorate of Biodiversity, Forests and Desertification – Spanish Ministry for Ecological Transition and Demographic Challenge
Economic analysis: Dagmar Nelissen, Senior Researcher, Mobility & Transport Department, CE Delft
Silvia Bartolini, Head of Unit Marine Environment and Water Industries – DG Environment, European Commission
Industry perspective: Konstantin Oetker, Managing Director, K. O. Maritime
Blue Speeds for shipping: Andreas Dinkelmeyer, Campaigns & Communications Manager, and Russell Leaper, Whale Scientist and Underwater Noise Expert – IFAW
Debate
Closing remarks: Jutta Paulus MEP (Greens)
Complimentary networking lunch (30 min)
Moderated by Sonja Van Tichelen, Vice-President International Operations, IFAW