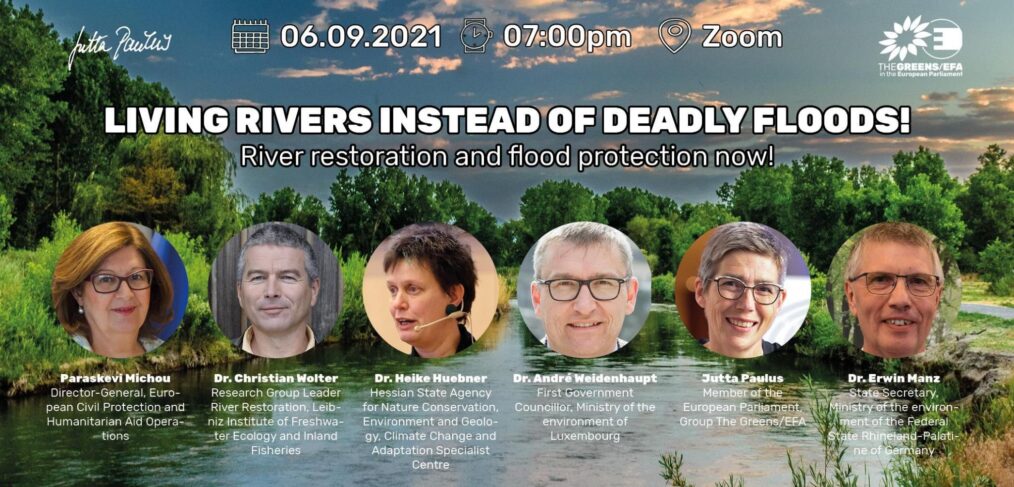 Online Event: "Living rivers instead of deadly floods – river restoration and flood protection now!
Monday 6th of September 2021, 7pm-9pm
The whole event will be in German with English translation!
We followed the flood disasters caused by the extreme rainfall in Rhineland-Palatinate and North Rhine-Westphalia in July with horror. No one would have imagined that the water masses would reach seven-metre levels in some places. The destruction was correspondingly devastating, causing harm and sorrow. Far too many people lost their lives, tens of thousands lost their belongings or even their roof overhead.
We know that heavy rain events will occur more frequently in the future. Therefore, it is high time to take better precautions. In addition to strengthening disaster control and improving warnings, this also includes resilient infrastructure and preventive landscaping, for example by giving rivers more space.
I'm happy to invite you to this webinar, in which experts from several countries will share their insights with us.
Director-General Paraskevi Michou of the Directorate-General for European Civil Protection and Humanitarian Aid (DG ECHO) will tell us how the EU can support its member states in disaster situations resulting from extreme weather events.
Not only in Germany, but also in the neighbouring countries of Luxembourg, Belgium and the Netherlands, heavy rain events occurred at the same time. There was destruction in many places, but the population there seemed to be better prepared for such events. Therefore, we would like to hear from Government Councillor Dr. André Weidenhaupt from the Ministry of the Environment Luxembourg how Luxembourg was able to prevent severe impacts from the heavy rain events in July and what other countries can learn from this.
State Secretary Dr. Erwin Manz from the Ministry of Climate Protection, Environment, Energy and Mobility (MKUEM) in Rhineland-Palatinate will talk about the impact of the July flood in Rhineland-Palatinate and how to prepare for the future.
Climate scientist PD Dr. Heike Huebner from the Hessian State Agency for Nature Conservation, Environment and Geology (HLNUG) from the Climate Change and Adaptation Centre will introduce us to the connection between weather extremes and the climate crisis and show how we can adapt.
The research group leader for river restoration Dr. Christian Wolter from the Leibniz Institute of Freshwater Ecology and Inland Fisheries (IGB) in Berlin will talk about the topic of river restoration and also address the EU restoration plan, which aims to implement the goal of 25,000 km of free-flowing rivers in the EU.
I thank all the experts for their valuable time, and their willingness to discuss these important issues with you!
Speakers:
Paraskevi Michou, Director-General of the Directorate-General for European Civil Protection and Humanitarian Aid (DG ECHO)
Dr. André Weidenhaupt, Government Councillor at the Ministry of Environment Luxembourg
Dr. Erwin Manz, State Secretary, Ministry for Climate Protection, Environment, Energy and Mobility, Rhineland-Palatinate
PD Dr. Heike Huebner, Hessian State Agency for Nature Conservation, Environment and Geology (HLNUG), Climate Change and Adaptation Specialist Centre
Dr. Christian Wolter, Research Group Leader River Restoration, Leibniz Institute of Freshwater Ecology and Inland Fisheries (IGB) Berlin