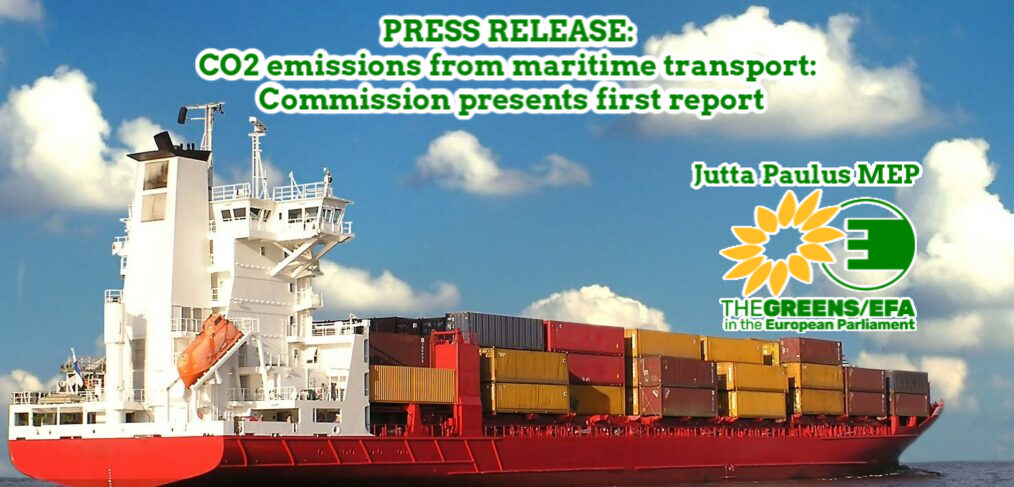 PRESS RELEASE: CO2 emissions from maritime transport: Commission presents first report
PRESS RELEASE, Monday, 25th of May 2020 – Brussels
CO2 emissions from maritime transport: Commission presents first report 
Today the European Commission published its first annual report on CO2 emissions from maritime transport. Since 2018, ships of a certain size (5000 gross tonnage and upwards) entering or leaving ports in the European Economic Area have been required to collect and report information on their fuel consumption.
The report presented today analyses the CO2 emissions and energy efficiency of these ships. The reporting system is based on the "EU Regulation on the monitoring, reporting and verification of carbon dioxide emissions from shipping" ("MRV Regulation"), which is currently being renegotiated.
Jutta Paulus
, who as 
rapporteur
 is negotiating the new regulation within the European Parliament and with the European Commission and the Council, comments:
"The report presented today shows that monitoring and reporting CO2 emissions is important, but not enough, because statistics alone do not save a single gram of greenhouse gas. That is why we need a reasonable price for climate-damaging emissions from ships and ambitious targets for more efficient sea transport!
Thanks to the existing MRV Regulation, we have the facts in front of us: In 2018, 11,600 ships called at ports in the European Economic Area and emitted 138 million tonnes of CO2. This corresponds to 3.7% of all CO2 emissions within the European Union. Nevertheless, maritime transport is the only transport sector for which neither an EU emission reduction target nor specific reduction measures exist. This must change with the new MRV regulation!"
Background and further steps_
§
The Environment Committee will vote on the report on 24 or 25 June 2020
§
The vote in the European Parliament is scheduled for the plenary session from 8 to 10 July
§
Jutta Paulus will then enter into legislative negotiations with the Council and Commission on behalf of the European Parliament
Ms Paulus is available for questions and interviews.