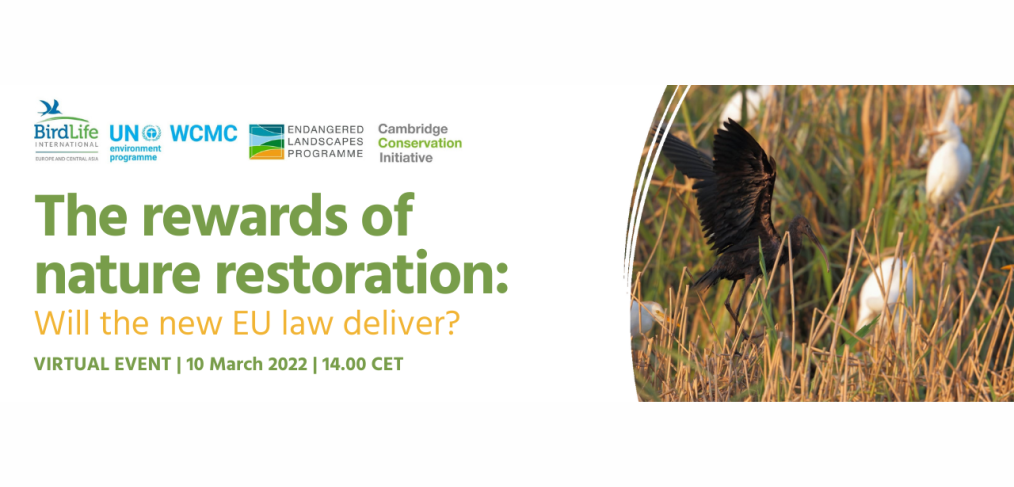 Webinar: "The rewards of nature restoration: Will the new EU law deliver?"
10th of March 2022, 02:00-03:30 PM
Passionate, committed people across Europe are restoring parts of Europe's nature for us all. Their stories show that it's possible to turn the tide on biodiversity loss and climate change, and that it's already happening.
See for yourself what nature restoration looks like at this event organised by BirdLife Europe, the Endangered Landscapes Programme and UNEP-WCMC.
You will hear from the very people who've done restoration on the ground, and see the fruit of their labour through a virtual photo exhibition.
Ahead of the release of the EU Commission's proposal for a Nature Restoration Law, you'll be able to reflect, together with a panel of decision-makers and experts, on how this law can be a real game changer for both the people and the nature of Europe, if it is done is the right way.
Speakers:
– Dr David Thomas, Programme Director Endangered Landscapes Programme Cambridge Conservation Initiative
– Katrien Wijns, Coordinator of the Care-Peat Project at Natuurpunt
– Zafer Kizilkaya, President of the Mediterranean Conservation Society and manager of the Gökova Bay project
– Andrea Vettori, Member of Commissioner Sinkevičius cabinet in charge of the Biodiversity and Nature Protection portfolio
– Jutta Paulus, Member of the European Parliament, Shadow rapporteur for the Greens group on the Nature Restoration Law
– Evelyn Underwood, Head of Programme, Biodiversity and Ecosystems, Institute for European Environmental Policy (IEEP)
– Sommer Ackerman, Environmental activist
– Ariel Brunner, Senior Head of Policy, BirdLife Europe & Central Asia