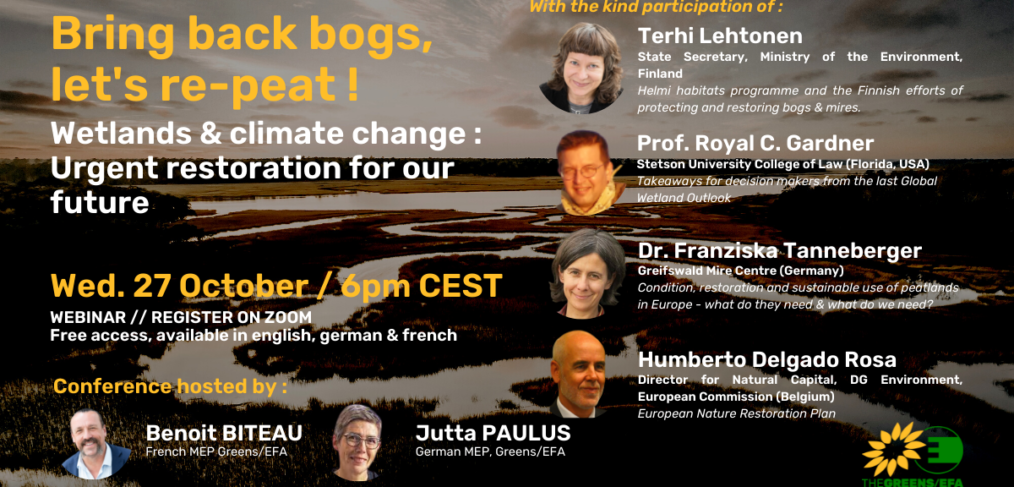 International Online Conference "Bring back bogs, let's re-peat!"
As we are facing a global climate and biodiversity crisis, urgent action in the next 10 years is needed. We just entered the UN decade for ecosystem restoration. For the international COP 15 on Biodiversity in Kunming, a target of 20% restoration of destroyed eco-systems is envisaged. In the light of the upcoming proposal for a Nature Restoration Law, to be presented by the European Commission by the end of this year, we want to emphasize the importance of peatlands where nature restoration brings multiple benefits.
This topic will be discussed in a webinar on October 27th 18-19:30 (CEST), organised by MEPs Benoit Biteau and Jutta Paulus.
The translation will be offered in 3 languages (English/French/German), the webinar will be recorded and accessible online.
Why Peatlands?
Peatlands cover only 3 % of the world's land area, but store twice as much carbon as forests which cover ten times as much area. Most endangered species depend on healthy wetlands for their survival, and their population decline is directly related to the decline of bogs and wetlands. According to the latest "State of the Nature" report of the European Environment Agency, 50 % of bog, mire and fen habitats have a bad conservation status, and show strong deteriorating trends.
Together with our distinguished speakers we want to show good examples for peatland restoration and discuss about necessary action in the future.
The conference:
As keynote speaker, the Finish State Secretary for Climate and Environment, Ms Terhi Lehtonen, will present to us the Helmi habitats programme and the Finnish efforts of protecting and restoring bogs & mires.
The director of the natural capital department of the DG ENVI of the European Commission, Humberto Delgado Rosa, will talk about the EU Nature restoration plan & Restoration of peatland and wetlands.

Prof. Royal C. Gardner from the Stetson University College of Law will share with us his takeaways for decision makers from the last Global Wetland Outlook.
Dr. Franziska Tanneberger from the Greifswald Mire Centre (global leader of peatland science) will give a lecture on "Condition, restoration and sustainable use of peatlands in Europe -what do they need & what do we need?"
MEP Benoit Biteau will talk about the connections between bogs, mires and the current CAP, and MEP Jutta Paulus will present the final version of our position paper "Green demands for a future restoration and protection of peatland and wetlands".
Already last year, we organized an international online conference to bring wetlands and peatlands to the heart of the EU Nature Restoration Plan.
More information on this event, including a recording, can be found here.