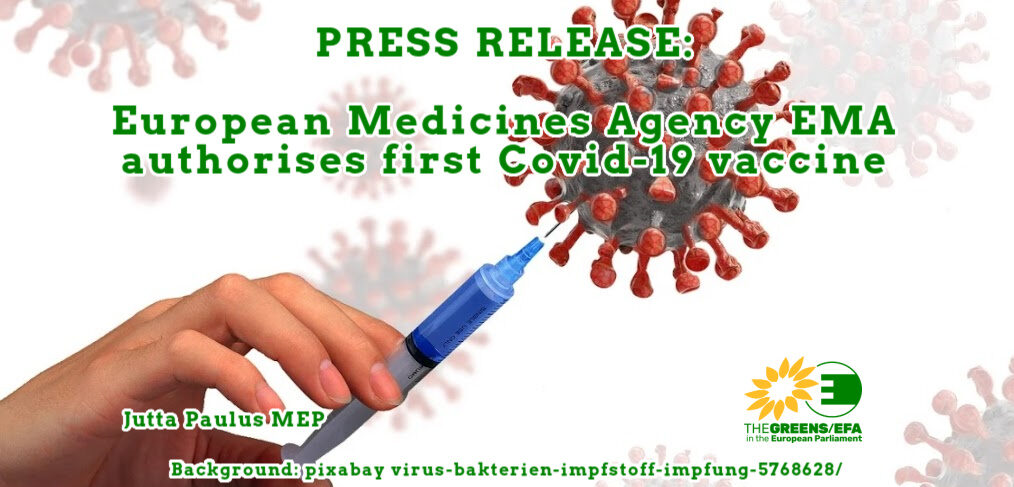 PRESS RELEASE: European Medicines Agency EMA authorises first Covid-19 vaccine
PRESS RELEASE, Monday, 21st o December 2020 – Brussels
European Medicines Agency EMA authorises first Covid-19 vaccine 
The European Medicines Agency (EMA) has just issued its recommendation for the release of Pfizer and BioNTech's Covid-19 vaccine under a one-year conditional marketing authorisation, which requires a more rigorous testing procedure.
Following the EMA's recommendation, the European Commission must now formally approve the release.
Green MEP and pharmacist Jutta Paulus comments:
"I am delighted that the European Medicines Agency (EMA) has today approved the first Covid-19 vaccine in Europe. The EMA has done an incredible job. In record speed and thanks to the tireless efforts of all involved, it has conducted a full and regular review of the vaccine's efficacy and safety. The same safety standards were applied as for any other vaccine, and the EMA even had much more data at its disposal – five to six Euro pallets of documents. I am pleased that the EMA has taken up our green demand and will publish the clinical trial data.
The vaccine release in Europe generates great confidence. It is good that all EU Member States have worked together to implement a regular licensing procedure. This is a great success for European and international health cooperation. Despite the wonderful news, we must all remain patient. Masks, hygiene and physical distancing remain the most important measures against the spread of the virus for the time being. A European-coordinated strategy could effectively contain the pandemic until sufficient vaccine protection is in place."