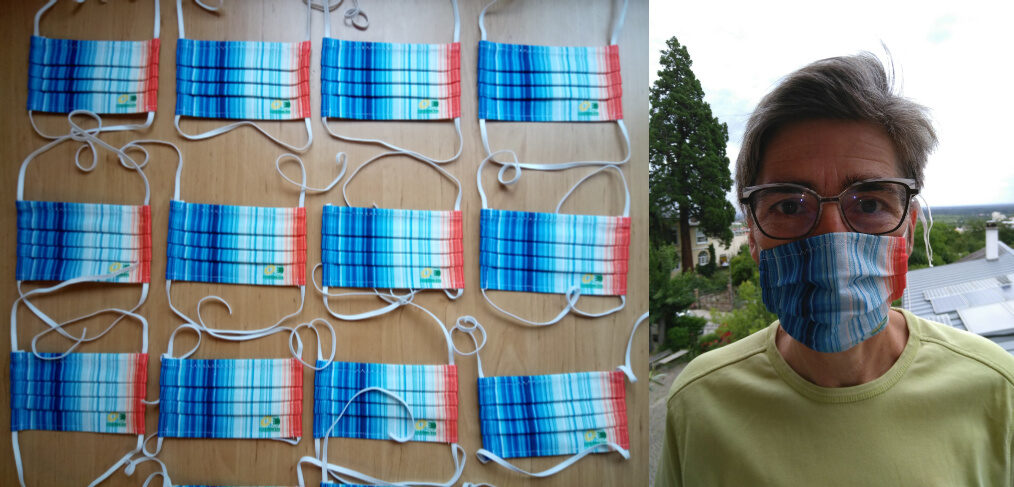 Warming Stripes Community Masks
What are warming stripes?
Some of you may already know the Warming Stripes from Jutta's climate scarf. They were originally published on May 22, 2018 by British climate scientist Prof. Ed Hawkins for the first time in order to make climate warming from 1850 to 2018 easy to understand. He used eight shades of red, blue and white to illustrate the rise in global mean temperature (https://web.archive.org/web/20180526060026/http://www.climate-lab-book.ac.uk/2018/warming-stripes/). White stripes correspond to years without deviation from the global mean temperature in the reference period 1971-2000. Blue stripes correspond to colder years (the darker the blue, the cooler) and red stripes indicate hotter years. With the #ShowYourStripes campaign, climate scientists want to use the Warming Stripes to draw attention to the climate crisis. The Scientists for Future also incorporated the Warming Stripes into their logo.
You can view the Warming Stripes for different countries on the website of Prof. Ed Hawkins: https://showyourstripes.info/
Ed Hawkins makes his idea freely available under the Creative Commons license CC BY 4.0.
The Fraunhofer ISE has provided the warming stripes for Germany, individual federal states and certain cities: https://www.energy-charts.de/climate_y_avg_de.htm?areaSelect=countrySelect&source=airTemp_bar&climateStripes=1&fbclid=IwAR0Ki0x74f-kDlU61GWSHo8ZIIKojtpPvZ2n1aRvc8Qs_4VqtM8ALe4XVJs&climateState=de
Corona crisis and climate crisis
In the Corona crisis, the climate crisis has moved somewhat into the background. Business associations call for the planned economic aid not to place as much emphasis on climate protection measures or to soften limit values. There is now a unique opportunity to make the economy directly climate-friendly and digital with the planned billion dollar investments. Of course, I support the current Corona measures and I am glad that the vast majority of people keep their distance and wear community masks in shops and public transport. With the warming stripes masks you can make it clear that the climate crisis has not disappeared due to the pandemic. Every crisis must be tackled with determination! Just as we use the masks to protect older and pre-ill people in particular, the fight against global warming is about the survival of the young generation. Fight every crisis!
What fabric do we use?
We chose "Half-Panama GRAZ 100% CO, 200 g / sqm" from the "textilio" printing company in Frankenberg / Saxony. It is organic cotton, which is slightly thicker than the fabric commonly used for masks.
Quality and manufacture:
GOTS certified organic printing inks
Ökotex Standard 100 PK I: for baby items
Made and finished 100% in Germany
More information: https://www.textilio.shop/produkt/halbpanama/
Who sews the masks?
The masks are made in Mainz by the seamstress Aileen Weis based on the design of the Red Cross Essen. They are two-ply and have a sewn-in nose clip.
For each mask that we distribute, we also donate a mask to the "Association for Poverty and Health e.V." from Prof. Dr. Trabert from Mainz. The latter distributes masks to homeless people and also sends masks to Lesbos for refugees. You are also welcome to donate something on our tailor's website. A donation mask costs € 4: https://www.schneiderei-schoen.de/maskenfueralle
There are two ways to wear this masks: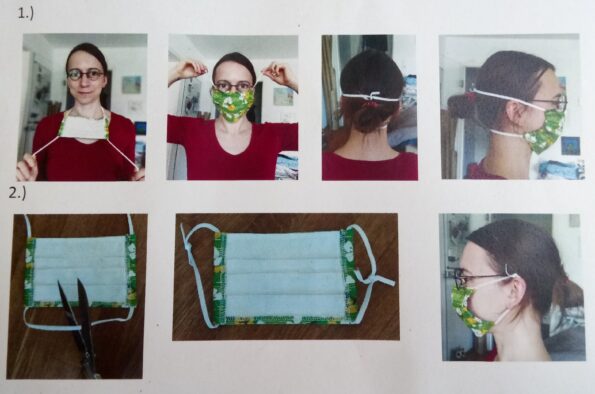 Wearing instructions:
——————————————
Wash before wearing for the first time.
For individual adjustment, there is a nose clip behind the serrated seam on the top of the mask. Please press this firmly.
The cover must be worn tightly and changed regularly.
After use, if the cover is to be reused, it must be washed at at least 60 ° C.
When washing several masks, it is recommended to tie the ribbon into a large knot.
The mask is not a certified medical device.
No product liability is accepted
For more information or special orders you can use the contact: kontakt@schneiderei-schoen.de
Best regards and stay healthy!
——————————————
Where can I get a Warming Stripes Mask?
The masks can be picked up from my local assistants in Mainz or Landau or possibly soon at the regional offices in Koblenz or Kaiserslautern.
It is best to write an email to:
We are also happy to send a mask by post. It is best to send us an email to philipp.veit@la.europarl.europa.eu.
Addendum 25.06.2020: We thank everyone for the great interest. Unfortunately, our first 128 masks are all already distributed. That was really super fast. We will have new masks made as soon as possible. Just have a look at Jutta's social media channels. When we have new masks again, it will be posted there.
Update 05.08.2020: Our masks 2.0 are ready and can be ordered again. Fitting the temperatures of the summer the new masks are made from thinner fabric. Now we use GOTS-certified organic cotton "Popeline Eco" with 135g/sqm (instead of 200g/sqm).
Update 26.10.2020: Our masks 3.0 have been delivered and can be ordered. Due to the large amount of feedback, now without a print on the front and with a wider nose clip so that the glasses do not fog up in winter.
!! Before washing the nose clip has to be removed (see photo below)!!