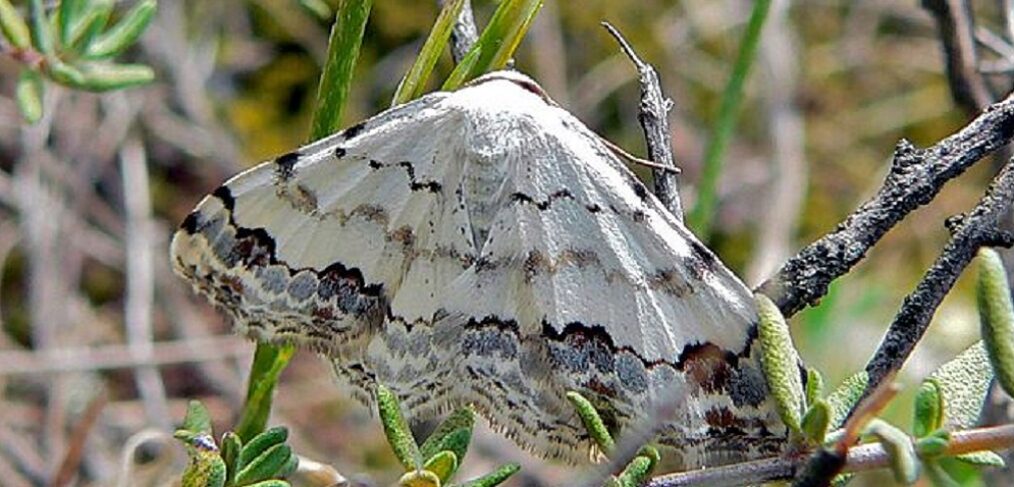 Species of the week #108 – Middle lace border
A caterpillar with the smell of cough syrup? It is unmistakably the caterpillar of the Middle lace border moth. This caterpillar feeds exclusively on thyme throughout the summer. It prefers to eat the rare sand thyme. The adult moth only sucks nectar, but is also tied to the presence of thyme. Its attractively patterned wings have earned it the Latin name Scopula decorata.
| | |
| --- | --- |
| Distribution status in Rhineland-Palatinate | extinct |
| Remaining occurance | Brandenburg, Southern Europe |
| Last sighting in Rhineland-Palatinate | Blumslay an der Mosel |
| Habitat | Sunny, warm slopes, grassy heaths, hot forest edges |
| Threats | Construction projects, afforestation, intensive agriculture |
The basic colouration of the wings is pure white to yellowish white, with a distinct inner transverse line and central shadow. A light wavy line runs in front of the fringe, which is terminated inwards by a blue-grey line. Distinct dark brown to purplish brown spots complete the pattern. The wingspan of the Middle lace border, is only 20 – 23 mm; this makes the moth just about the size of a 1 euro piece.
The Geometridae family is very large and diverse. The sandhymes moth alone has six different subspecies. The violet sandhymes moth is particularly attractive, with a pale purple wing margin, and is mainly found in northern Germany and the Baltic States. The Red List Centre unfortunately observes a very strong decline of the whole species.
Due to the disappearance of sandy meadows as a result of overbuilding, intensification of agriculture and forestry on sandy soils and afforestation, the sand thyme leafhopper hardly finds any habitat any more and is largely extinct in Germany. As populations have been declining for a long time, there is hardly any current knowledge about the species. In order to be able to study the butterfly's way of life in more detail, there are simply not enough individuals.
Photo: Bernard Dupont from France
Click here for more exciting species of the week