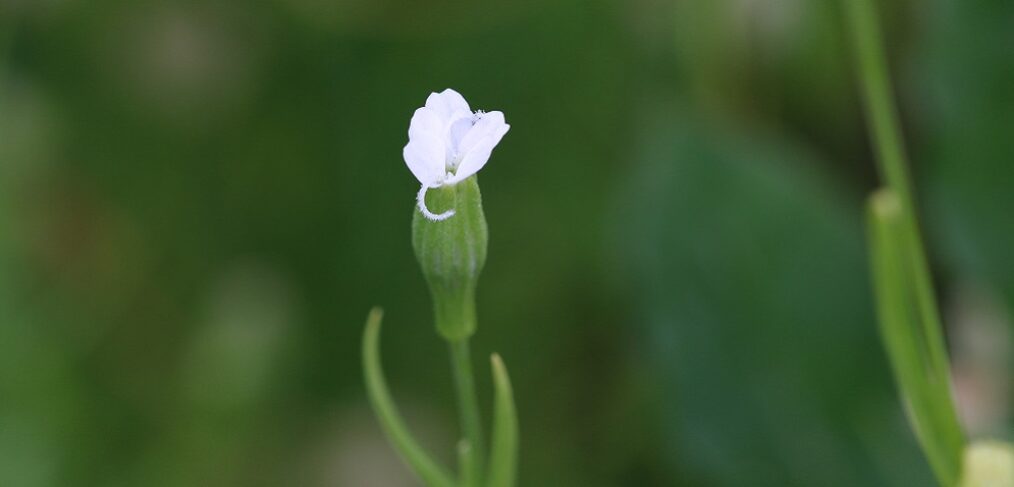 Species of the week #117 – Silene linicola
The Silene linicola is a typical weed in flax fields. The German Word Flachsnelke means Flax Carnation in englisch. Flax was cultivated throughout Germany until after the Second World War, but is now rarely seen. Accordingly, the associated "weed" has also died out in Germany. It is all the more surprising to discover the flax carnation in the botanical garden in Mainz. There it is deliberately cultivated and stored in the Mainz Wild Plant Seed Bank in order to secure it permanently.
| | |
| --- | --- |
| Distribution status in Germany | extinct |
| Remaining occurance | Botanical gardens in Mainz, Frankfurt and Bonn |
| Last sighting | current |
| Habitat | flaxfields |
| Threat | End of Flax cultivation |
The annual silene linicola belongs to the carnation family and grows to a height of 60 cm. The stems and flower stalks are short-haired rough. The pretty plant flowers in June and July in light pink, often with darker stripes. It originated in France and probably developed and spread in the course of flax cultivation. It still grows today in the flax-growing regions of Belgium, France, Italy and the Western Balkans. The flax carnation is particularly interesting for botanical research because the species must have evolved in the relatively short period of 1500 years of flax cultivation with the survival strategy as a weed.
After flax cultivation was completely abandoned in Germany in the 1970s, sporadic flax fields are now being planted again. In 2019, for example, 1200 hectares of flax were cultivated for organic linseed oil production in Germany. By comparison, at the end of the 19th century, 215,000 hectares of flax were cultivated, primarily for linen production.
Until well into the 18th century, flax was the most important plant fibre in our country and, along with wool, the textile raw material par excellence. Linen was initially displaced by cotton; finally, cheap synthetic fibres with a linen-like appearance replaced the plant that had been used since the Neolithic Age. Incidentally, flax is still grown in Belgium; it is mainly used for the famous Brussels lace.
Politically necessary:
Promotion of flax cultivation
Promotion of wild plant seed banks
Securing flax and flax oil production, incl. mills and weaving mills
Click here for more exciting species of the week
Photo : Franziska Hahn, Botanical Garden University Mainz