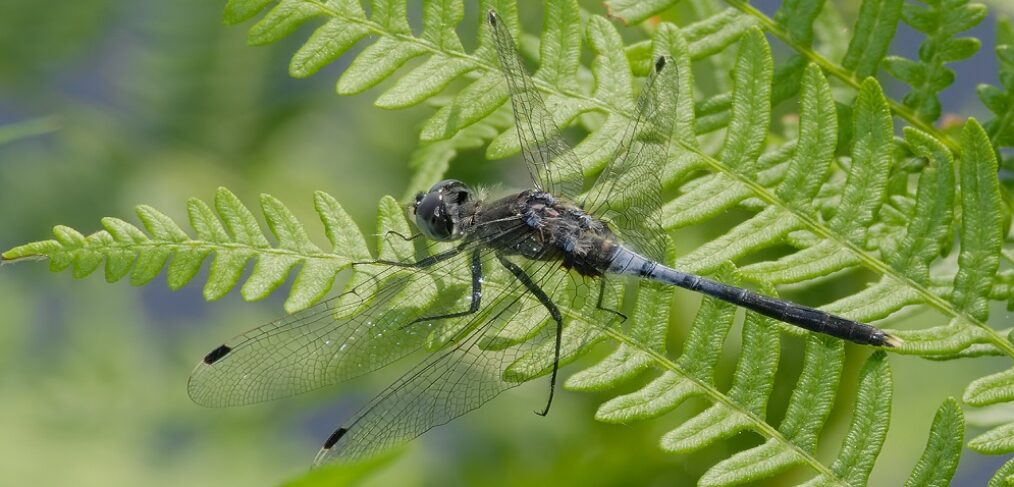 species of the week #27 – the dark whiteface
There are currently 81 dragonfly species in Germany, 67 of which have also been recorded in Rhineland-Palatinate. Among the species that have not yet been found was the dark whiteface until summer 2013. In 2013 it was first found on a woog near Kaiserslautern.
Dissemination status   
 Threatened with extinction
Remaining deposits
Brandenburg and Saxony
Last sighting in Rhineland-Palatinate
2013 near Kaiserslautern
Habitat
acidic, nutrient-poor, stagnant moorland waters
Endangerment

 

nutrient inputs, excessive fish population, removal of aquatic and riparian vegetation
The dark whiteface is mainly distributed in Central and Eastern Europe (hence the name), but extends from southwest France to western Siberia. The Eastern Darter populates mainly nutrient-poor waters. Its habitats include acid moorland waters with a siltation vegetation of peat mosses and small sedges, but also alkaline lakes and extraction waters with submerged plant stands. It can also colonise oxbow lakes, brown coal, gravel extraction and quarry waters.
Its first discovery in Rhineland-Palatinate fits in with the species' broad migratory tendencies, which have not yet been fully clarified. The occurrence in a designated protection and FFH area once again confirms the importance of biotope protection – only if these protected areas are intact can initial and recolonisation processes take place and ensure the functioning of the Natura 2000 network. However, the quality of the protected areas, particularly with regard to the water balance, is indispensable in this context.
Fun fact on the gender difference in the dark whitefaces: The females start foraging at sunrise and, depending on the season, lay eggs. The males sleep much longer and can only be spotted from 9:00 a.m. onwards.
Politically necessary:
– Mire protection
– Dissemination of riparian strips
– Implementation of the Water Framework Directive in the Member States
Picture: By Andreas Eichler, CC BY-SA 4.0, https://commons.wikimedia.org/w/index.php?curid=37140380