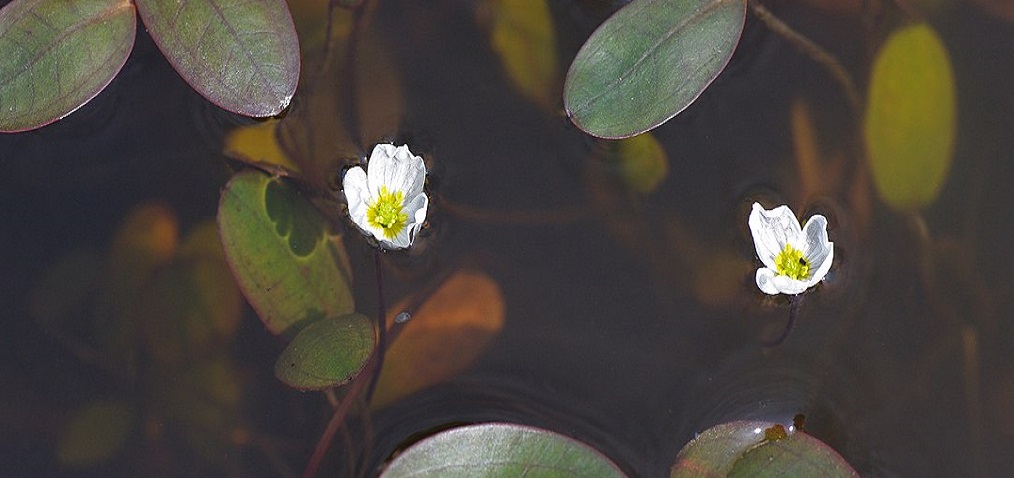 Species of the week #4 – The floating water plantain
In Rhineland-Palatinate and all of Germany many of the former occurrences of plantain have already died out. It shares its preference for nutrient-poor, only moderately overgrown shore zones at ponds and ditches with the habitat of frogs; hence the name. The reason for the decline of the frogweed is often nutrient inputs, the increasing
Distribution status          
 Extinct in Rhineland-Palatinate
Remaining deposits
In Lower Saxony, Schleswig-Holstein,
Brandenburg, Saxony
Last Sighting in Rhineland-Palatinate
unknown
Habitat
Flat, sunny, nutrient-poor banks with little vegetation
Threat

 

Nutrient enrichment, climate change, intensive water withdrawal
In Rhineland-Palatinate and all of Germany many of the former occurrences of floating water plantains have already died out. It shares its preference for nutrient-poor, only moderately overgrown shore zones at ponds and ditches with the habitat of frogs; hence the german name frogweed. The reason for the decline of the plantain is often nutrient inputs, the increasing competition from more vigorous water and reed species as well as the draining of ditches and waters.
In the still partially existing ditch systems for the irrigation of agricultural areas, the floating water plantain finds its last habitats, especially in Lower Saxony. However, these irrigation networks are increasingly removed or fragmented. The input of fertilizer and air pollutants leads to nitrate enrichment in water bodies, which promotes vigorous species. The floating water plantain, which has little growth, becomes overgrown and dies. However, when former habitats are restored, the populations can recover, because the storage of seeds and fine roots in the soil can cause floating water plantain to suddenly reappear after years of absence.
Politically necessary:
– uncultivated riparian strips to avoid nutrient input from agriculture
– Preservation and promotion of small water bodies, especially the water meadows and rift landscapes
– Climate protection
An overview of all species of the week can be found here.
Picture: schwimmendes Froschkraut by Christian Fischer, CC BY-SA 3.0, https://commons.wikimedia.org/w/index.php?curid=15721377