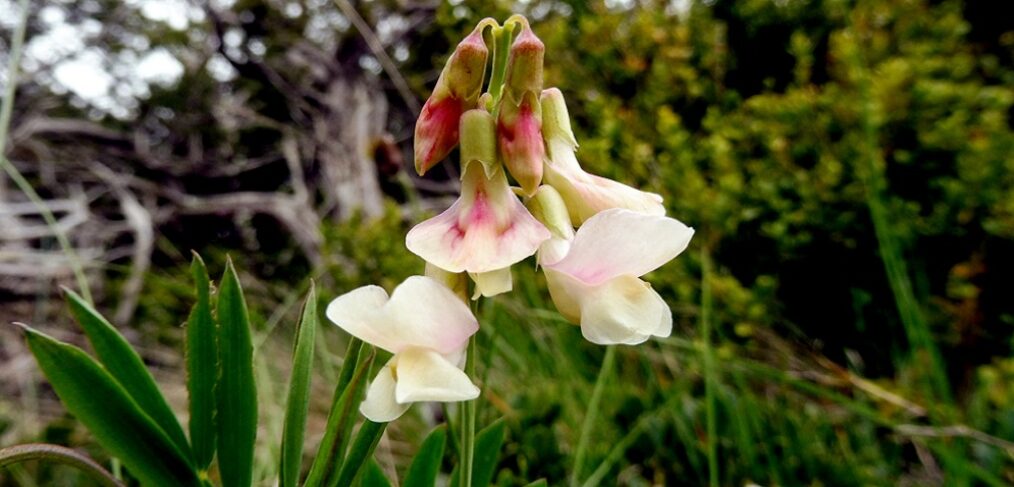 species of the week #50 – Lathyrus pannonicus
The Lathyrus pannonicus is a flowering plant that until the 1990s was only found in Germany near Gau-Algesheim and in the vicinity of Tübingen. In the nature reserve it enjoyed strict protection along with many other plant rarities. Due to the nutrient enrichment of soil and air caused by nitrogen emissions from agriculture and traffic, it has been lost in Rhineland-Palatinate since 1995 and is considered extinct.
| | |
| --- | --- |
| Distribution status |  Extinct in Rhineland-Palatinate |
| Remaining deposits | Tübingen, Austria, Croatia Southern France |
| Last sightning in rhineland-palatinate | 1995 Kirn |
| Habitat | Grassland |
| Threat | Scrub encroachment, eutrophication |
The Lathyrus pannonicus flowers from May to June. The racemose inflorescences are mostly erect and one-sided. They can be shorter, but also longer than the petiole. The flower is yellowish-white, often with a reddish tinge. The stem is glabrous, the leaves lanceolate. The eponymous legumes are 3 – 6 cm long and flat. The peas they contain are slightly poisonous.
The plant family contains food and fodder plants, but also ornamental plants. Some species are used for nitrogen fertilisation, others as dune stabilisers. The well-known fence vetch also belongs to the dwarf peas and embellishes farm and nature gardens.
The Lathyrus pannonicus is dependent on rough grasslands, any nutrient input worsens its living conditions. Since the last location in Germany is near Tübingen, there is a breeding and reintroduction attempt in the Botanical Garden of the University of Tübingen. Outside Germany Lathyrus pannonicus is even more common, especially in Austria and Croatia.
– Reduction of air pollutants
– Reduction of fertiliser quantities
– Maintenance and preservation of rough grasslands and       meadows
To further species of the week 
Image: By Isidre blanc – Own work, CC BY-SA 4.0, https://commons.wikimedia.org/w/index.php?curid=49053845