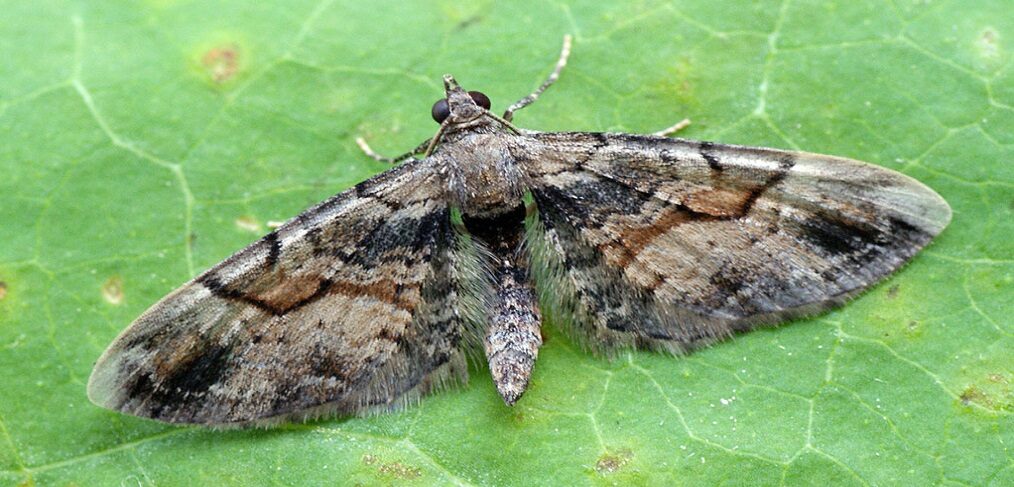 species of the week #26 – the goosefoot pug
The spread of the goosefoot blossom-thrush is probably related to the fact that, after the end of the Second World War, many areas were covered with rubble and debris, where goosefoot, the main food plant of the caterpillars, and other foxtail plants were able to spread quickly and luxuriantly. In Rhineland-Palatinate, it disappeared again with the reconstruction in the 1960s and the associated widespread decline of ruderal plants. Today, the moth is mainly native to Scandinavia, Russia and the Netherlands.
| | |
| --- | --- |
| Distribution status  |  Extinct in Rhineland-Palatinate |
| Remaining deposits | Scandinavia, Russia, Netherlands |
| Last sighting in Rhineland-Palatinate | 1967 in Hördt |
| Habitat | Debris sites; stony, barren meadows |
| Endangerment  | Habitat destruction, artificial lighting |
The wingspan of the moth is 15 to 20 millimetres. The narrow forewings have a light brown ground colour with a dark brown band extending across the entire wing and tapering towards the inner edge. In the outer hem field there is a deep brown dark field which reaches to the tip.
Increasingly, all moths, and especially the flower moth, suffer from the strong nocturnal lighting. They are attracted by the very bright artificial light with a high blue content and flutter around the lanterns until they fall to the ground without strength.
Politically necessary:
Creation/approval of ruderal surfaces (raw floor surfaces)
Reduction of lighting at important habitats
insect-friendly lighting concepts
No extra-local street lighting
To further species of the week here
Picture: By Ilia Ustyantsev from Russia – Eupithecia sinuosaria – Goosefoot pug, CC BY-SA 2.0, https://commons.wikimedia.org/w/index.php?curid=74600679