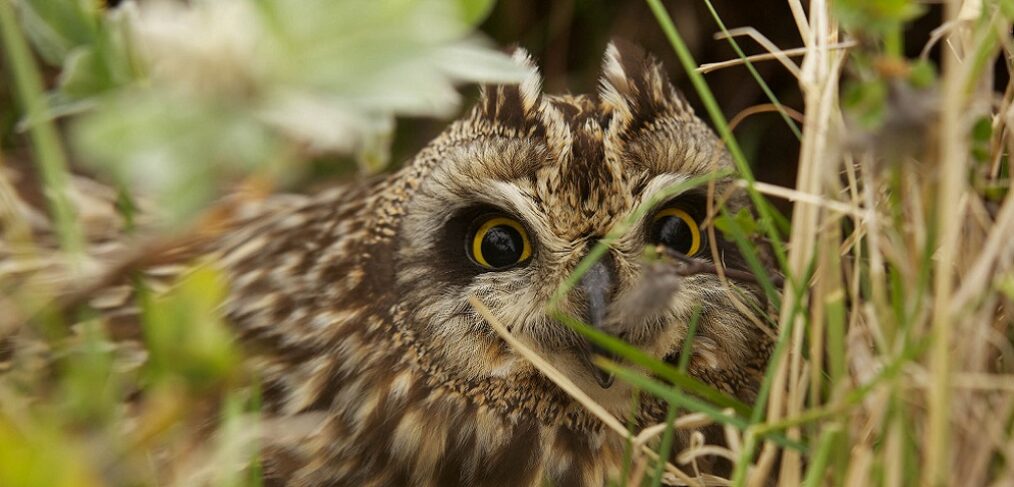 species of the week #40- the short-eared owl
The short-eared owl is a very special owl. It is also easy to observe during the day. Above all during the young rearigng, it doesn't have any time to oversleep the day. Unfortunately, it doesn't brood any more in Rhineland-Palatinate since the 60er years, occasionally, however, one can discover it in the spring as hiker in the district Kaiserslautern.
| | |
| --- | --- |
| Distribution status |  Extinct in Rhineland-Palatinate |
| Remaining deposits | North Sea |
| Last sighting in rhineland-palatinate | 2013 near Glan-Münchweiler |
| Habitat | bogs, wetlands, coasts |
| Threat | climate change, bog destruction, hunting |
The short-eared owl has a very round head with small feather-ears. The field of vision is very bright and the yellow eyes are black rimmed. The upper side is well camouflaged: the ground is cream with light to dark brown cross-banded spots. Their feather ears can only be seen when they are set high to deter enemies.
One finds the brood-areas of the swamp-ear-owl in bogs, in high moors, in wet meadows and at coasts with low vegetation. Through climate-change and nutrient-input, the often dry put bogs and swamp-areas disappear ever faster and are densely overgrown in many places. However, the owl needs the open landscapes for nest-building on the ground and for hunting, in order to be able to see the often clearly visible streets of mice from the air. It systematically flies over meadow areas or remains on a low hide to locate its prey. One sometimes sees swamp-ear-owls only one or two years in a brood-area. This is connected with the mouse population. If there are too few mice in the brood-area, it leaves it and looks for a new home.
Unfortunately, many short-eared owls still fall victim to illegal bird-hunt.
Politically necessary:
– Comprehensive climate protection
– Moor protection and renaturation
to the other species of the week
Picture: From Ólafur Larsen – Brandugla (Asio flammeus) – Short-eared Owl, CC BY-SA 2.0, https://commons.wikimedia.org/w/index.php?curid=19920604