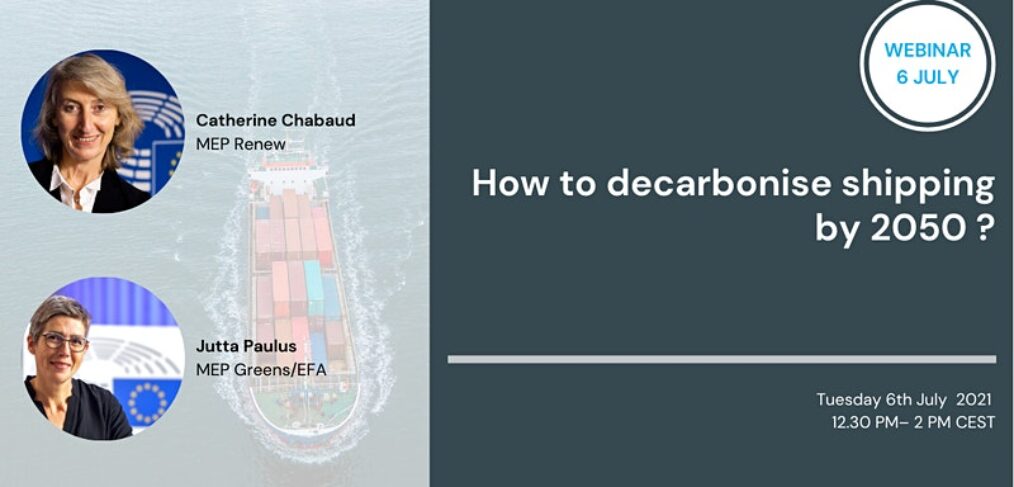 Online-Event: How to decarbonise shipping by 2050?
What technological and regulatory solutions for European shipping to reach net-zero emissions by 2050?
About this event
With shipping's global emissions expected to rise by as much as 50% until mid-century, shipping urgently needs to start decarbonising. As the sector expects the first-ever EU regulation to switch to sustainable alternative fuels, the FuelEU Maritime, it is high time to answer the right questions:
What technological and regulatory solutions to reach net zero-carbon shipping by 2050? How far can e-fuels lead us and by when? Is there room for so-called transitional fuels? Join our webinar to discuss concrete solutions with MEPs Ms Catherine Chabaud (Renew) and Jutta Paulus (Greens/EFA) and a panel of leading industry, financial and civil society experts.
Programme:
12:30-12:40: Welcome by MEPs Ms Catherine Chabaud (Renew) & Ms Jutta Paulus (Greens/EFA)
12:40-13:00: Introductory presentation, Faïg Abbasov – "7% e-fuels by 2030 to decarbonise EU shipping by mid-century – T&E study results"
13:00-13:40 Panel discussion:
– Jorgo Chatzimarkakis, Secretary General, Hydrogen Europe – "How hydrogen can help decarbonise the maritime sector"
– Roy Campe, Chief Technology Officer, Compagnie Maritime Belge – "How to kick-start the deployment of zero-emission vessels"
– Gavin Allwright, Secretary General, International Windship Association (IWSA) – "Wind propulsion, key driver for shipping decarbonisation"
– Andrew Losos, Senior Sustainable Transport Specialist, World Bank – "Financing the transition to zero-carbon shipping – how to avoid stranded assets"
13:40-13:55 – Questions and Answers session with participants
13:55-14:00: Closing remarks by MEPs Ms Catherine Chabaud (Renew) & Ms Jutta Paulus (Greens/EFA)